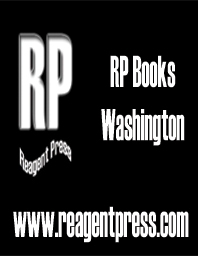 RP Books & Audio was founded in 1994 as Virtual Press. Our products fall into four major categories:
* Children's Fiction—encompasses a wide variety of tastes from contemporary fiction to fantasy fiction.
* Teen Fiction—includes stories of magic, adventure and mystery written for those ages 12 and up.
* Adult Fiction—includes mystery, thriller, science fiction, fantasy and a variety of literary fiction topics.
* Nonfiction—covers many categories as well including writing reference, business reference, computer/operating system reference and history.
Our imprints include:
* Reagent Press—our core imprint for adults and young people covering both fiction and nonfiction, including trade paperback and hardcover originals as well as special and collector editions.
* Reagent Press Books for Young Readers—features books for young people, including picture books, chapter books, early readers, middle-grade readers, and young adult books.
* RP Audio—produces digital audio books of our top-selling books.
* RP Audio Kids—a digital audio book imprint for kids.
* Classroom-To-Go—a digital audio book imprint for educational and training titles.
Learn more at www.reagentpress.com.