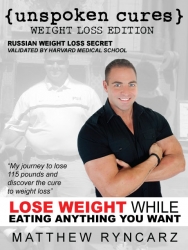 Atlanta, GA, October 29, 2013 --(
PR.com
)-- Unspoken Cures, one of the leading names in natural health, has announced the January 1, 2014 release date of a cutting edge weight loss book. Matt Ryncarz, Co-host of the Unspoken Cures radio show, will be authoring the book. Mr. Ryncarz personally experienced a decade long battle with obesity which concluded with him losing over 100 pounds while transforming his body into a fit and muscular physique while keeping it off for nearly five years. Past that, Mr. Ryncarz is now an author, radio show host, natural products inventor and strength athlete.
"This was a very cleansing experience for me, I have wanted to tell this story for a long time as obesity is a huge issue in the United States that is only getting worse," said Matt Ryncarz. "Far too many weight loss books have been written by people that have never been overweight. This book is as much about the emotional side of being overweight as it is about losing the weight, for good. My goal was to expose the truth about food and dieting weight while creating a simple blueprint that anyone can use to have the body of their dreams."
The book cover boasts "Lose Weight While Eating Anything You Want." Unspoken Cures says this tagline is a nod to research that was released by Harvard Medical University that shows when a person can consume "treat" foods without loading fat cells with blood sugar. Matt explains this process in detail inside of the book.
"I have been involved with other weight loss book projects, even Kevin Trudeau's Weight Loss Cure that sold millions of copies, but I have never seen something as easy to follow as Matt's program. This isn't a diet, it is a simple and easy plan that will allow you to eat how you want without deprivation, forever. I am personally using it everyday and shedding fat like never before," said Donald Barrett, co host of Unspoken Cures Radio.
The Unspoken Cures: Weight Loss Edition, is being completed with a release date of January 1, 2014. The first chapter can be read at
http://unspokencures.com/unspoken-cures-weight-loss-edition/
.
Unspoken Cures is a leading name in the natural health world. The brand currently maintains a line of books, online blog, radio show and TV series. More information can be found at UnspokenCures.com