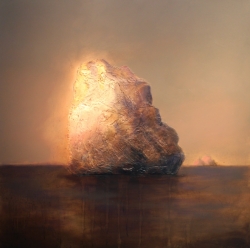 Dallas, TX, October 30, 2013 --(
PR.com
)-- Contemporary Dallas gallery, Laura Rathe Fine Art, will collectively display and debut new works by artists, Steven DaLuz, Michelle Gagliano and Pauline Ziegen in the group exhibition, "Enlighten" with an opening reception on Saturday, November 23rd from 6-9pm. Drawing inspiration from the early American art style of 'Luminism', this collection of work emanates an ethereal style that emphasizes the effects of light and atmosphere with the artists' application of illuminating mediums, such as gold leaf and patina.
The "Enlighten" collection and exhibition will be on display through December 7, 2013.
About The Artists
Steven DaLuz is compelled to do work that conjures up a sense of mystery and ethereal light, whether figurative or abstract. While identified with abstract works that are often landscape-referential—employing a process he devised using metal leaf, oil, and mixed media, he is also known for figurative works that are poetic and introspective. "Landscape, spirituality, and the figure all serve as inspiration for me. Collectively, my work often reflects upon primal questions about origins, the expressive beauty of the human figure, the aesthetic power of light moving through an imagined atmosphere, and the sublime."
The contemporary works of artist Michelle Gagliano explore the idea of surface alchemy. Through layers of oil glazes and stains she creates a textural and tonal patina that evokes a sense of aged surfaces and timelessness. "The organic content of my work refers not to specific landscape views or flora, but rather suggests an imaginary moment, where vines and leaves in silhouette atop smoky skies echo metaphoric content beyond a realist interpretation." Gagliano's use of metallic paint and sfmuato techniques augment a sense of visual resonance, and embody a sense of ineffable beauty that seeks to transcend a specific time and place.
A longtime fan of Eastern philosophies, Pauline Ziegen is drawn to the perceptual elements and materials of Chinese and Japanese art. "I love the way the artists convey the illusion of space using minimalist drawing techniques, and I find the gold leaf in Japanese folding screens both traditional and austerely modern." Ziegen's innate sense of harmony and balance results in horizons that are soothing, calm, and orderly. The lines become provocateurs that grab the eye asking it to bridge opposites: the upper and lower registers, heaven and earth, the inner and outer worlds, being and non-being, and perhaps just as importantly, the landscape as perception and painted object. Saying more with less is at the heart of Ziegen's approach.
About Laura Rathe Fine Art
Formally established in Houston in 1998, Laura Rathe Fine Art represents a dynamic artist roster including emerging, mid-career, as well as blue-chip contemporary artists. With a primary focus on abstract expressionist painters, LRFA also represents and displays a diverse and select group of sculptors, photographers and new media artists.
Located in the heart of the gallery and design districts of Houston and Dallas, Texas, LRFA regularly hosts artist exhibitions, lectures, and art walks that serve as an integral part of the expanding art scene and community across Texas. LRFA provides art consultation services to private and corporate collectors and to the design industry.
For additional information, details or to schedule an interview, please contact 214.761.2000
Janice Meyers, Director, Janice@LauraRathe.com Courtney Feavel, Assistant Director, Courtney@LauraRathe.com