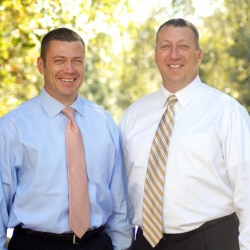 Greenville, SC, November 05, 2013 --(
PR.com
)-- Brothers and business partners, Travis and Philip Wyatt, are excited and proud to announce their newly formed financial business - Wyatt Brothers Financial, LLC.
Already established as successful New York Life Agents in the Greenville area, they have been working diligently toward this new level of financial products and services. "We are eager to share our news and introduce our existing clients as well as potential clients to our vast scope of financial services that we offer now," said Travis Wyatt, founding principal. He adds, "As Wyatt Brothers Financial, we provide our clients with financial products and strategies that give them greater peace of mind and a more solid plan for the future."
Teaming up with his brother, Philip Wyatt, was only natural for Travis since they have been working together for five years selling New York Life insurance, one of America's premier financial companies. Together, they can continue their commitment to providing high quality service, sound investment opportunities and long-lasting business relationships.
With over 13 years of combined experience in the financial industry, Travis and Philip will be offering more financial strategies and options. "To keep pace with our clients' various needs, as Wyatt Brothers Financial, we have access to new processes, enhanced product features, and pioneered new technologies," said Philip Wyatt.
In addition to the new business name, they have a new website- www.WyattBrothersFinancial.com. Clients and prospects can find valuable resources and many current articles pertaining to the market and taxes*, plus more detailed information about their team.
About Wyatt Brothers Financial, LLC
Recently founded by brothers and business partners, Travis and Philip Wyatt, Greenville-based Wyatt Brothers Financial, LLC provides the following financial planning services:
Financial Strategies
Investment Strategies
Succession Planning
Retirement Planning
Income and Distribution Planning
Education Funding
Charitable Giving
Elder and Long-Term Care Planning
Solutions for Owners of closely held Businesses
Employee Benefits & Qualified Retirement Planning for Businesses
Insurance Strategies
For more information, please visit WyattBrothersFinancial.com, email or call us directly.
Contact:
Travis Wyatt & Philip Wyatt
Wyatt Brothers Financial, LLC
935 S. Main Street, Suite 400
Greenville, SC 29601
twyatt@wyattbrothersfinancial.com
pwyatt@wyattbrothersfinancial.com
864-678-7041
www.wyattbrothersfinancial.com
David Travis Wyatt, II and Philip Wyatt, Registered Representatives offering securities through NY LIFE Securities LLC. Member FINRA/SIPC, a Licensed Insurance Agency. 864-213-5433 Wyatt Brothers Financial, LLC is not owned or operated by NYLIFE Securities LLC or its affiliates.
* Wyatt Brothers Financial, LLC, nor its agents provide tax, legal or accounting advice. Please consult your own professionals for tax, legal and accounting advice.