Angie Cox Has Recently Been Recognized by America's Registry of Outstanding Professionals
Angie Cox of Gifford, Illinois, has recently been included in America's Registry of Outstanding Professionals as Professional of the Year 2014 for her outstanding contributions and achievements in the field of The Arts. In honor of her excellence and proficiency in her profession, she will be featured in Times Square, New York City on Friday, July 25, 2014.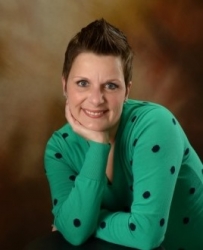 Farmingdale, NY, July 15, 2014 --(
PR.com
)-- Angie Cox and her twin brother were born into a prison world addicted to heroin. Her and her brother's early years were spent in a loveless and torturous relationship with a foster mother who abused and neglected them. Somehow they managed to survive and grow into adulthood with a faith in God that she learned through her life experiences. Angie went on to earn her B.S. in Business and Finance at Brunel University, Bournemouth and Poole College. She has since written her memoir entitled "Surviving the Devil: An Account of Adoption and Abuse." In her book she describes the agonizing existence endured by her and her brother at the hands of their foster mother. The goal of her memoir is to bring awareness to child abuse by not skimming over the ugly details so that people who read her book will turn their outrage to action. She is currently working on her newest book due out in 2014 entitled "Life After Abuse." Angie's leisure time is now spent in promoting child abuse prevention and animal abuse advocacy, cooking, reading and gardening. Her quote "I have decided to stick with love. Hate is too great a burden to bear" exemplifies her outlook on life today.
The Professional of the Year membership in America's Registry is awarded to those candidates who have achieved recognition in their respective industry or profession for their accomplishments and who have established a commendable reputation. The Times Square honor is of particular significance because of the high visibility it offers. This visual celebration of Angie Cox's career will appear at regular intervals on two monitors attached to the landmark skyscraper at 3 Times Square, #1, New York, NY 10036. This structure is situated in what could be considered the busiest area of Manhattan. America's Registry is pleased to honor her.