"The Promiscuous Puppeteer," by Author Walter B. Biondi Goes International
"The Promiscuous Puppeteer," by bestselling author Walter B. Biondi was fully released by Tate Publishing, LLC, on August the 12th for national and international distribution to all traditional book markets.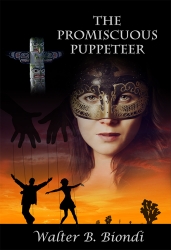 Seattle, WA, August 15, 2014 --(
PR.com
)-- "The Promiscuous Puppeteer" - Tate Publishing, LLC, and author Walter B. Biondi announced on August 12, 2014 the national and international release of the bestselling author's newest suspense novel "The Promiscuous Puppeteer." Praising reviews have already appeared on noted book review website "Goodreads." For those interested in learning more about Walter Biondi, the publisher has included a very uncharacteristic several page addition entitled "About The Author" to the end of the book. Already deemed a compelling human interest story by some in broadcast media, the author reveals for the first time his "Les Miserables" Jean ValJean like past in going from a wretched life on the brink, as a homeless street kid, to becoming an unimaginable success. The Promiscuous Puppeteer is a multi-facted story about a secret gold exploration company and a CEO who is approached by a Mexican-Native American woman, whose skills, from a sordid and seedy past, have the potential to help launch the world's largest gold discovery onto the international stage. Chinese intelligence and embassy officials, US politicians, unscrupulous industry leaders, and a fledgling but growing and menacing Native American mafia are all primary constituents of a compelling and momentous drama that takes place throughout the western third of the US. It all begins at a five-thousand-foot-high remote desert location called Tonopah, NV. The author resides in western Washington state and southern Arizona.