About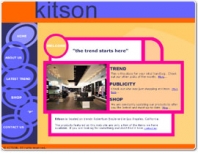 Kitson, on hip Robertson Boulevard in Los Angeles may be only 3 years old, but it has already become the favorite stop for many celebrities and the who's who in Hollywood.

Kitson believes that shopping should be fun! Our team of buyers are always on the hunt to find the hottest and newest trends. Don't try to call them as they are always on the go - traveling constantly between New York , Los Angeles and Europe to stay one step ahead of the competition.

One trip to Kitson and you will be hooked. Looking for the hottest handbag it's here. Got to have that necklace you saw in InStyle - it's here. Where did Britney get that t-shirt? Yep at Kitson.

The store has become so busy that we have expanded to help serve you better. With double the space we will be able to give you more of the great stuff you have come to expect from Kitson.

Our website can only show you a few of the great things for sale at Kitson. For the full experience you will have to come in and visit the next time you are in La La Land.
Status

Private Company