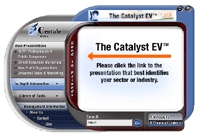 Centale's Mission: To grow our clients bottom line through the empowerment of technology
The Centale team was assembled to deliver solutions based technology to drive our clients profitability. Composed of experienced professionals in their respective industries, the Centale team delivers a broad knowledgebase of experience with a deliberate and focused purpose.
We know what you need.
Centale has over 25 years of combined Direct Response, Sales and Marketing experience, technology development experience, and is supported by a software development team of over 100 programmers. We are able to customize a solution directly suited to achieve your mission.
In our opinion, a large part of the DR Industry is behind the times technologically. Many of the technologies used by multi-billion dollar corporations have eluded the DR/IR Industries due to their sales and marketing skill sets. Centale's business based solution are easily understood and implemented by sales and marketing experts.
The ability to communicate is paramount whether you're looking to influence decisions, market DR products or "pitch" a new investor. Centale's communication platform makes it easy and efficient.