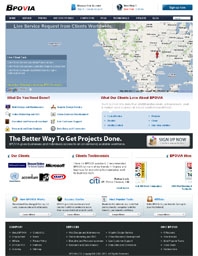 BPOVIA is the leading virtual assistant and Knowledge process outsourcing (KPO) service provider in the world. BPOVIA provides global SMEs and individual clients with an on-demand, cost-effective and one-stop solution of essential business services like administrative task, website design, graphic design, internet research, market research, data entry, accounting, CAD, word processing etc.

The majority of BPOVIA's clients are SMEs and individuals from United States, UK, Australia, Canada, etc. Not only just cost saving, BPOVIA helps its global clients run their business professionally and efficiently with minimum overhead and liabilities. Outsourcing and globalization is no longer privilege for Fortune 500 companies. BPOVIA provides SMEs and individuals an easy and affordable way to enjoy the benefits of globalization and outsourcing just like fortune 500 companies.

Established in September 2007, BPOVIA is the rising star in outsourcing industry and gained popularity in SMEs around the world. BPOVIA won 2008 Red Herring Global 100 Award in Feb 2009 and 2008 Red Herring Top 100 Private Technology Companies in Asia Award in December 2008. In May 2009, BPOVIA won 7 Global Outsourcing 100 2009 Award by IAOP (International Association of Outsourcing Professionals) which including: Best 10 Rising Stars in Revenue Growth; Best 10 Rising Stars in Employee Growth; Best 10 Rising Stars by Industry Focus: Entertainment & Media; Best 10 Rising Stars by Industry Focus: Services; Best 10 Companies by Industry Focus: Services; Best 10 Companies by Service Offered: Administrative; Best 20 Rising Stars by Region Served: U.K.
Status

Private Company

# Employees

200