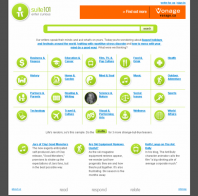 Suite101.com is a refreshing online magazine featuring a heady blend of candid opinions, useful recommendations and savvy commentary from more than 250 expert writers committed to getting, grabbing, and growing a readership of connoisseurs, devotees, and enthusiasts as fascinated by the topic as they are.

More than 2 million people a month visit its 2,000 live and archived topics, thousands of articles and blog posts, and 150 free courses.The site attracts curious browsers in search of answers, news, tips, a good read, or a chat with like-minded groupees who offer visitors (primarily from the US, Canada, and UK) quality content per click and a chance to join the online conversation.

Suite101.com was privately founded in 1996 by two families, but in February 2006 was purchased by a German magazine mogul and a small group of private investors who hired a new 6-person management team and 20 editors, launched a unique paid quality publishing model with new design and optimized navigation, added RSS feeds, updated its discussion forums and hardware, and undertook an aggressive hiring strategy. The site is currently accepting applications from Web writers with proven subject knowledge, writing ability, and commitment.

The site features 20 sections:
* Business & Finance * Education & Career * Film, TV & Pop Culture * Food & Drink
* Health * History * Home & Garden * Mind & Soul
* Music * Outdoor Adventure * Partners & Parents * Reading & Writing
* Science & Nature * Social Issues * Sports * Technology
* Travel & Culture * Visual/Performing Arts * Wellness * World Affairs

Suite101.com: the curious reader's destination for art & science, mind & body, home & abroad: read, respond, relate.
Status

Private Company
Company History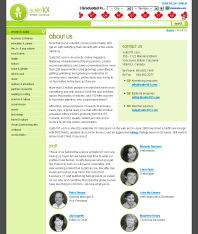 Suite101.com was privately founded in 1996 by two families, but in February 2006 was purchased by a German magazine mogul and a small group of private investors who hired a new 6-person management team including VP and General Manager Peter Berger, Editor-in-Chief Joy Gugeler, Webmaster Michele Romano, IT Manager Chris Reid, Web Application Developer Luke McGovern, and Technical Assistant Maureen Fleury.

Since then the site has hired 20 editors, launched a unique paid quality publishing model with new design and optimized navigation, RSS feeds, updated discussion forums and hardware, and an aggressive hiring strategy.

The site is currently accepting applications from Web writers with proven subject knowledge, writing ability, and commitment.

Suite101 is looking for freelance web writers who are:
*writing non-fiction and loving what they are writing about,
*self-described afficionados, passionate enthusiasts, savvy opinion-makers, intrepid citizen journalists, recent grads, or information junkies with plenty to say,
*veterans of other print or electronic media who are quick studies and want to build an online portfolio and attain cyberskills
*able to write timely, pithy, ahead-of-the-curve articles for discerning Web browsers who want their news from an insider
*dying to share entertaining, intelligent, and relevant material with an audience they know is out there because they're one of them and they're looking for converts
*ready to field questions, engage in healthy debate, or offer practical advice in discussion forums
*looking to join a young, progressive, innovative team with a penchant for taking a chance on new ideas
*able to grant exclusive electronic rights to their work on the site for 1 year from pub and shared rights thereafter (writers own copyright and all other rights)
*able to write at least one 400-word targeted article and blog post per week, but once addicted will do more
*able to write for US$2.00 per 1,000 unique page views (entry level) for all articles writen after signing the contract as long as it's on Suite101.com