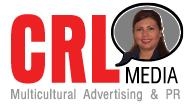 CRL Media was founded in 2004 by the Advertising pro & Journalist Claudia Ruiz Levy.
Colombian-born Claudia Ruiz Levy started her career at one of the biggest ad agencies in the world: McCann-Erickson, where she handled local accounts as well as multinational accounts such as Bayer Pharmaceuticals and Gillete. She later worked at Publiplan Advertising as copywriter and creative director for accounts such as Bayer (Talcid and Aspirin), Piaggio (Vespa!), B.D.F Healthcare, Ford Motors, Staff, Almacenes Si, Renovar and many others. She is a graduate of Manizales Catholic University where she majored in advertising.
She moved to Princeton in 1998 to perfect her English and afterwards felt in love with New York where she worked in the entertainment publishing industry and attended the School of Visual Arts. This experience led her to rub shoulders with Latino personalities like Enrique Iglesias, Shakira, Rey Ruiz and Jose Feliciano, among others.
Formerly serving as the Chairman of Volunteers for the Greater Palm Beach Area Chapter of the American Red Cross, she received the Public Relations Award in 2007. She also lends her talent to St. Jude Children's Research Hospital and other non-profits.
In her daily management of CRL Media, Claudia combines her passion for the community with her knowledge of the market. She is hands-on with the public relations aspect of the business and is in constant contact with CRL clients. She has counseled some of the largest companies (and the smallest) on market strategy and brand architecture - with an emphasis on marketing to niche audiences. She is a confessed social media addict and specially loves twitter. Follow her @crlmediapr