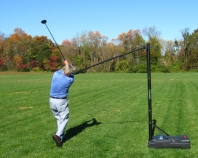 Forever Better Golf Inc. DBA PRO-HEAD GOLF is the manufacturer and distributor of the patented PRO-HEAD Trainer, the only training aid that provides instant feedback for any swing head movement. Bob Doyle, President and inventor of the PRO-HEAD Trainer says "that the product simply works for all golfers, all ages, all heights and weights, male or female, left or right handed."

The product was introduced at the 2011 PGA Merchandise Show in Orlando, FL. Golf Channel's Martin Hall bought one over the internet, loved it and agreed to fully endorse it. Martin demos the product on www.pro-head.com.

Lou Guzzi, the 2013 PGA Teacher of the Year, also bought one and has agreed to endorse the product.
Status

Private Company

Founded

2009

# Employees

5