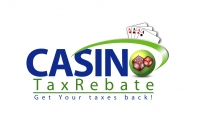 Casino Tax Rebate® is a Canadian Company founded in 1979 that specializes in U.S. Gambling Tax Recovery Services. If you win gambling in the USA the gambling winnings are treated as taxable income and a 30% tax is deducted from your gambling winnings. If you are Canadian you can file a US tax return after the end of the year and only pay taxes on your net gambling winnings after deducting any direct gambling losses (which would be the money you spend to win the casino winnings). Proper record keeping is required in order to be able to claim any losses. Records can include the statement of gambling losses produced by the Casino, or cash withdrawal receipts and a personal diary of your losses. Slot players should write down the machine number they play at as well as the name, address and phone number of any person with them when they do win to act as your witness to the winning. Large gambling winners may find that they undergo additional questioning by the IRS and may be required to get letters from the casino to verify their winnings and are usually the subject of detailed audits on their losses and record keeping. Casino Tax Rebate has the experience to assist large gambling winners with this intimidating audit process that is required to get the casino refund of the 30% withholding.

Countries other than Canada that qualify for a complete casino tax refund are:

Austria, Czech Republic, Denmark, Finland, France, Germany, Hungary, Ireland, Italy, Japan, Latvia, Lithuania, Luxembourg, Netherlands, Russian Federation, Slovak Republic, Slovenia, South Africa, Spain, Sweden, Tunisia, Turkey, Ukraine, and the United Kingdom.

Gambling tax refunds for the above listed countries other than Canada qualify to recover the full amount of the IRS 30% withholding tax deducted by US casinos on Casino winnings. The above listed countries also qualify for a complete refund of taxes on game shows, prizes and other skill based gaming activities.

Casino Tax Rebate® is a member of the Better Business Bureau and an IRS authorized Certifying Acceptance Agent, providing U.S.A. Individual Taxpayer Identification Number certifications and US Refund Management Services.

To use the services of Casino Tax Rebate click here.
Status

Private Company

Founded

1979

# Employees

9
Company History
Casino Tax Rebate® is a Canadian Company founded in 1979 that specializes in US Tax Recovery Services. Based in Thunder Bay, less than 20 minutes from a large Minnesota casino popular with residents of this border town, they have been preparing hundreds of gambling winnings tax refund applications for the US Tax Recovery of casino winnings annually since 2001. The company operates the following website at www.casinotaxrebate.com to assist in the casino tax recovery process.

In 2005 Casino Tax Rebate® branched out into internet marketing of its service for gambling taxes and have thousands of clients across Canada. Casino Tax Rebate® is one of the fastest growing Refund Management Services in Canada.

In 2008 Casino Tax Rebate® expanded internationally to recover Casino Tax Refunds for residents of Europe and Asia as well as Casino winnings taxes for Canadians.