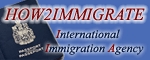 How2Immigrate.net is the Internet-based office of Aries Immigration Consulting, LLC - full service international immigration advisory firm.

Through the years, Aries Immigration Consulting has built strategic partnerships with local businesses in the USA, Canada, Australia, New Zealand and Brazil involved in the immigration and relocation process. Our network of internationally recognized emigration specialists is growing constantly and currently includes immigration lawyers, immigration consultants, tax advisors, human resources professionals, job consultants, etc. Our professional staff speaks English, Portuguese, Bulgarian and Russian.

We effectively process hundreds of immigration applications from our Head Office through the use of e-mail, fax, telephone, mail and courier. Our firm enjoys a near 100% success rate with clients who retain our immigration services via the Internet because we do not accept cases that are risky and have no chance of succeeding. In order to reach highest level of customer satisfaction and quality of service all of our immigration visa services are guaranteed with 100% money back agreement. Using today's modern technology, Aries Immigration Consulting is perfectly equipped to assist in all immigration matters.
Status

Private Company

Founded

2001

# Employees

5