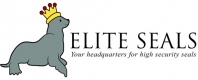 Elite Seals is dedicated to providing an incomparable line of high security and tamper indicative seals. Elite Seals offers the widest selection of security seals for any use. Elite Seals has a product that will fit your needs. Our seals incorporate strength and tamper-indicative characteristics that will not only deter unauthorized people, but also provide physical evidence should a violation occur.
All of our security seals are available in a variety of colors. Seals can be customized with your company name or logo, sequential numbering and bar-coding.
Elite Seals offers seals that meet or exceed the current C-TPAT (ISO/PAS 17712) standards for high security mechanical seals. For more information visit: www.eliteseals.com.
C-TPAT Seals, Bolt Seals, Cable Seals, High Security Seals, ISO/PAS 17712 Seals, Cargo Seals, Container Seals, CTPAT Seals, C-tpat Seals, Trailer Seals, Sellos, Sellos de alta seguridad