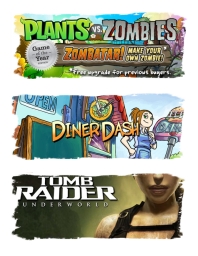 Games 2 Download is one of the Internet's top gaming destinations, where everyone can safely purchase and download games without having to wait in line at a store.

Established in September 2004, our mission is to publish high quality downloadable computer games, on an easy to use and family friendly website. We focus on high production values, story and personality, as well as addictive and original game play that everyone can enjoy. Users can download a free feature-limited version of each game, or purchase the full version.

Unlike most websites, we serve both casual and hardcore gamers alike. We have partnerships with a myriad of PC game developers, so we are able to offer a huge variety of games, across many genres. Our partners include PopCap (developers of Plants vs. Zombies), Gamehouse, Big Fish Games, as well as AAA retail developers such as Eidos, Ubisoft, and Rockstar Games (publishers of the Grand Theft Auto series).

With over 1,000 games listed in our directory, and 18 different genres (board games, action, puzzle, strategy, racing, and much more), we have more variety than anyone on the web.
Status

Private Company

Founded

2004