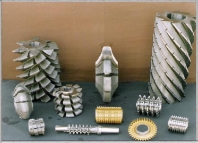 www.maxwelltools.com the ultimate site for quality tools
When you next consider your arrangement for products like gear cutters, scalping cutters, shell and mill, side and face, slitting saw, chain sprocket, axle cutters and gear milling cutters, gear hobs; I would welcome the opportunity to understand yor requirements.
Since 1976, Maxwell Tools has constantly worked to provide tailored solutions for specific applications ensuring cost effective, indigenous and innovative products and sevices. We have customers all over world who have found strategic advantage from working with us.
All your enquiries will be taken on top priority.
With Regards
Rajiv Gupta
Maxwell Tools Co.
Rajpura-140401
Ph:91-01762-309672,224427
Mobile-09417019017
U.S DISTRIBUTOR
Munish Gupta
7025,Sky less way
T-2,Springfield 22151
Virginia,USA
Fax 001-5614313852
Ph:001-7036082617