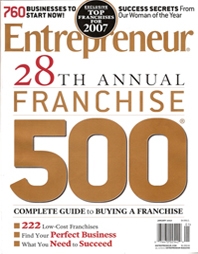 DirectBuy was founded in 1971 in Merrillville, Indiana, with a small member base and about 20 manufacturer partners. Today, we've grown to more than 130 locations in 36 states and 7 provinces in Canada, as well as over 1,200 manufacturers (700 in the U.S.; 500 in Canada). The result is that our hundreds of thousands of members can now purchase nearly anything they want for in and around their home through DirectBuy, at direct insider prices – much like retail stores do.
DirectBuy ranks No. 4 in the Entrepreneur 2007 Franchise 500 in "Miscellaneous Services."
In late 2007, DirectBuy was purchased by Trivest Partners LLC, a small equity firm out of Miami, Florida.
Jamie Elias, a partner at Trivest, had this to say of DirectBuy: "Trivest was particularly attracted to DirectBuy due to the fact that all stakeholders (members, vendors and franchisees) realize considerable value. Club members realize meaningful savings compared to retail, vendors gain access to a highly profitable, alternative distribution channels and franchisees benefit from a compelling return on their investment."