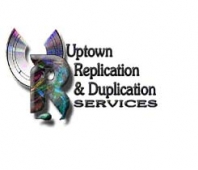 We are committed to getting you the lowest prices and still provide you the best quality available in CD, DVD and VHS manufacturing.
It's no accident that the world's leading companies turn to Uptown Replication and Duplication Services manufacturing facilities for their media production needs.From a Fortune 500 company to an independent recording artist, you will receive the same "UPTOWN" experience.
Our plant manufactures bulk and consumer products for some of the biggest names in the business: Maxell, Memorex, Fuji, Sony, TDK and RadioShack, to name a few.
Our plant features one of the most substantial, ISO 9002 certified facilities in North America. With the latest manufacturing systems in place, our state of the art facilites are situated strategically for rapid access to markets across the continent and beyond. Our manufacturing facility is on the cutting edge of technology, offering the highest quality in media today.
We manufacture DVD, CD, CD-R, and VHS media for content and consumer markets. We also are meeting the needs for our clients CD's in the music and software industries, plus, DVD's for the corporate and entertainment industries.
Uptown Replication and Duplication Services will continue applying the same visionary approach, the same day-to-day commitment to our manufacturing and customer service that has helped our manufacuring facility become one of the most rapid growing companies in the media manufacturing and packaging service industry today.