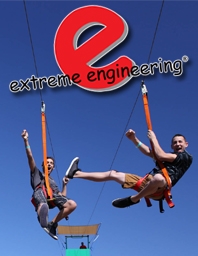 Extreme Engineering is the world's largest supplier in patented, award winning ziplines, climbing walls and adventure products to the amusement and resort industries. With over 19 years in experience and 5,000 customers worldwide, Extreme Engineering has provided extreme thrills and profits to customers such as Disney, Six Flags, NASA, US Military, Sheraton, Westgate, Marriott and others. Extreme Engineering holds 8 total industry awards and 5 Best New Product awards in the entertainment industry. Fun is our business!

916-663-1560
info@extremeengineering.com
www.extremeengineering.com
Status

Private Company

Founded

1995

# Employees

25
Company History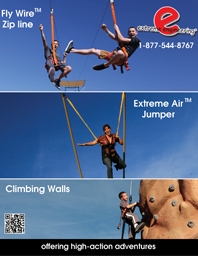 Extreme Engineering holds 8 total industry awards and 5 Best New Product awards in the entertainment industry.

With over 19 years in experience and being the original creators of the mobile climbing walls and Auto-belay™ systems (US patent numbers 6,083,142 & 6,390,952), Extreme Engineering has been globally recognized as the primary supplier in ziplines, mobile and stationary climbing walls and extreme, interactive fun. Winner of "Best New Product" 5 years in a row and 8 total industry awards, making Extreme Engineering the first company in amusement history to achieve this amazing breakthrough.

Extreme Engineering offers exciting products that can compliment your existing business as well as provide you with a new business venture. Our passion is to promote, preserve and provide profitable opportunities with outdoor sports and innovative products! We make entrepreneurs successful, period. We challenge you, the customer, to be profitable and make fun your business!