Emplicity HR Outsourcing was founded in 1995 in the US to provide outsourced alternatives to a traditional human resources (HR) department for entrepreneurial startups and other rapidly growing companies. Since then, the company has evolved into a turnkey professional employer organization (PEO) that supports management and labor law compliance, payroll administration, and employee benefits.
www.emplicity.com/hr-outsourcing.php
Status

Private Company
Company History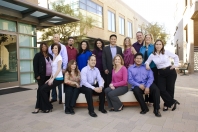 Emplicity has been serving the employee management needs of some of the most respected companies in Texas and California for over 18 years.

With services that are tailored to meet specific needs of the HR department, Emplicity offers business owners the freedom to refocus on their business and respond instantly to changes in the marketplace. From full-service PEO to customized Employee Benefits, Workers Comp, Payroll Administration, Employee Leasing & HR Consulting, Emplicity.com can provide them all for clients in California and Texas.