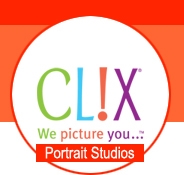 Clix is the innovative franchise opportunity in the exciting world of digital portrait photography and imaging. Clix provides franchisees three, interconnected revenue streams through one storefront operation:

- The Clix franchise model represents five years + of operational plus 40+ years of industry experience
- A storefront portrait studio
- On-location and special event digital portrait photography
- A digital media and imaging design center located in the storefront operation

Successful Clix franchisees are positive thinking, passionate business minded people who want to build a growth business, not just run a store.

- A photography background is not necessary to be considered as a potential Clix franchisee.
- Clix provides franchisees with training by a team of experts in all facets of their business: franchise operations, photography, training, real estate, marketing, and advertising.
- Clix is dedicated to creating a customer experience like no other. Our franchisees are armed with the latest in technology, a proven, proprietary system, a strong focus on service, support, and our customer's overall experience, we have the winning formula.
- Clix will teach you and your team how to professionally preserve moments and memories with digital photography. Our Clix system and training can have you and your team shooting professional quality portraits in no time.
Clix currently offers a large, protected territory to franchisees.
- Each Clix territory currently provides access to a population of no less than 200,000 up to 1 million people. A Clix franchisee is someone who wants to develop a multi-unit operation with three distinct but interconnected revenue streams.

At Clix our aim is to provide "The Ultimate Portrait and Imaging Experience" to our customers. This is accomplished through our selection of franchisees, our studio with a fun, interactive décor (1400 to 2800 SF), our products, our quality and customer experience. At Clix, the customer is the star – and increasing your sales and helping you develop a loyal, repeat customer base is our goal.

Clix offers the most innovative and comprehensive storefront and on-location portrait, event and imaging franchise business available with profitable, interconnected revenue streams and the support you need to succeed. With Clix, you offer high quality product, competitively priced, delivered right away.
Status

Private Company

Founded

1999

# Employees

90