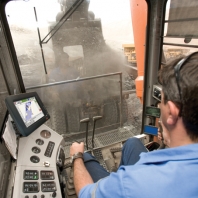 Leica Geosystems Mining
A global partner for the Life of Mine
Leica Geosystems Mining is a division of Leica Geosystems Pty Ltd, one of the original innovators in machine GPS navigation.
The Leica Geosystems Mining is a tier one provider of fleet management, production optimization and high precision guidance solutions. Their product family for mining has established Leica Geosystems as the provider of choice for this technology in over 100 mines around the globe.
The Leica Geosystems Jigsaw system optimises production in mines leading to a measureable production gain of 3 to 15%. The Jigsaw solution is fully scalable and totally OEM independent – working on machines from any manufacture, be they mixed or set fleets. Leica Jigsaw is fully integrated with the Leica Jmineops reporting and dispatch software. The Jmineops replicated database technology (patented to Leica Geosystems) ensures that no individual machine or full system data is ever lost, ensuring accurate reporting and exceptional time management, safety and forward planning.
As an integral part of Leica Geosystems Pty Ltd, Leica Geosystems Mining offers a complete portfolio of class-leading measurement technologies capable of positioning, monitoring and measuring every phase of the mine life cycle. From pit to port, from exploration to remediation, their TPS, GNSS, HD scanning, and slope monitoring is used every day on literally hundreds of mines. Leica Geosystems is best known for its broad array of products that capture accurately, model quickly, analyze easily, and visualize and present spatial information. They have long been established as the global innovator for survey and measurment solutions.
With close to 200 years of pioneering solutions to measure the world, Leica Geosystems Pty Ltd products and services are trusted by professionals worldwide to help them capture, analyze, and present spatial information.
Those who use Leica Geosystems products every day trust them for their dependability, the value they deliver, and the superior customer support. Based in Heerbrugg, Switzerland, Leica Geosystems is a global company with tens of thousands of customers supported by more than 3,500 employees in 28 countries and hundreds of partners located in more than 120 countries around the world. Leica Geosystems is part of the Hexagon Group, Sweden.
When it has to be right.