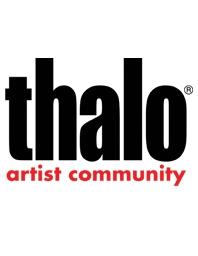 thalo is an inspirational resource that recognizes creative people who inspire others through their art.
Purpose and focus
Our purpose is to spread positive, artistic energy and to provide a collaborative environment for the creative community to stay inspired!®
Our focus is to provide a platform for creative people to stay inspired, gain access to information, showcase their work, and explore career opportunities for all of the arts: from fine arts to performing arts, applied arts to design and everything in between.
Content
thaloConnect, a creative social network that contains live streams of inspiration and ideas posted by creative people.
thalo provides original content via an article section, and a video section (thaloTV).
Services
thalo also features the Max Grumbacher Gallery where artists are able to showcase and sell their original artwork online, as well as provide interested parties with fine art reproductions and archival poster prints of their artwork--a printing service which is provided by Grumbacher®.
Students and artists can also use the site to participate in our contests section, which allows them to submit their artwork and compete with artists from across the country.
thalo also provides a jobs section, which contains a diversified portfolio of career opportunities for creative people as well as a posting site for artists to let employers know that they are seeking employment.
Stay Inspired!