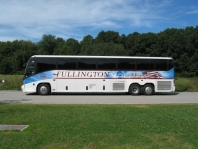 Trailways has been serving travelers for over 7 decades. It is a network-based organization comprised of privately owned-independently operated motorcoach companies providing a wide range of ground transport, charter, travel and tour services including, but are not limited to, the following:

• Scheduled Route, Intercity & Transit
• Charter & Executive Day Coaches
• Tours & Travel Planning
• Escorted Motorcoach Tours, Guides & Sightseeing Services
• Corporate Commuter & Business Shuttles
• School Bus & Military Transfers
• Cruise Ship, Airline, & Rail Transport Connections
• Bus Stop Service and Ticketing
Status

Private Company
Company History

Prior to 1936, many privately owned motorcoach companies found themselves isolated with regard to the interchange of passengers from their lines against the more highly organized groups. Many of these motorcoach operators saw the need for an umbrella organization that would support independent motorcoach carriers—one that would help them secure fair exchange for interline passenger business. But little was done about this need—until February 5, 1936—when a meeting was held in the office of Mr. H. W. Stewart, then General Manager of Burlington Transportation Company.

The meeting was held with the idea of forming an association—a system—comprised of privately owned or independent motorcoach companies. Its primary purpose was to help increase passenger traffic between- and within- members' respective territories, thus, positively affecting economies and furnishing safer, more convenient and expeditious service for the traveling public.

Officials representing the original five member companies who attended the first meeting of the association of Trailways—also became its managing committee—they were:

Burlington Transportation Company - H.W. Stewart, Chairman
Santa Fe Trails Transportation Company - P.O. Dittmar, Vice Chair
Missouri-Pacific Stages - A.E. Greenleaf, Secretary
Safeway Lines, Inc. - A.T. Williams, Treasurer
Frank Martz Coach Company - Frank Martz, Sr., Director

The newly organized network of privately held companies adopted cream and crimson as the official colors for all motorcoaches operating under the banner of Team Trailways.