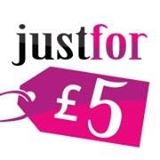 Justfor5pounds brings an amalgamation of a well-seasoned team with wealth of expertise and experience in the Ladies Fashion retail sectors. Just for £5 was conceptualised as an online platform for ladies fashion with private seed funding and inaugurated mercantile activity September of 2012.
The aspiration was to provision fashion inexpensively during the difficult financial period in UK and elsewhere, also simultaneously, the customer shopping trend was developing from high street to online shopping. Our opportune launch of our online platform was to meet the needs of new savvy prudent consumer. This unprecedented wave of change brought insatiable demand for bargains and discount offers which 'Just For Five Pounds' brand was established to fulfil. Our burgeoning online business facilitates quality and stylish ladies fashion at affordable prices.
We appreciate all of our customers highly and enable them to interact in multi-faceted ways, allowing us Unitarian and unique insight on their experience and requirements. JF£5 adopts a flexible philosophy and interminably enhancing our website and aligning logistics for better efficiency and experience for the consumer.
Explore the latest fashion and all the freshest styles in womens clothing, womens bags, womens footwear, accessories and gifts.