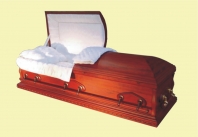 Idee Co.Ltd. is a craftsman of Handcrafted Solid Wood Caskets in casket manufacturing industry. Our caskets are manufactured with high quality standards and our experience in wood industry leads our caskets to be unique in design and quality. Idee caskets are designed and manufactured according to traditional US casket manufacturing philosophy and materials.
● Handcrafted Solid Wood Caskets
● Hand-Finished Rounded Corners
● Detailed Hand-Crafted Interior
● Interior covering options; velvet, cotton, satin, crepe, linen.
● Adjustable Bed options.
● Wide variety options for Handles
● Matching Pillow and Throw
● Elegant in Appearance
● Half Couch and Full Couch options
● Different finishing colours.
● Wood type options ; pine, beech, mahogany, maple, oak, walnut, chest and cherry