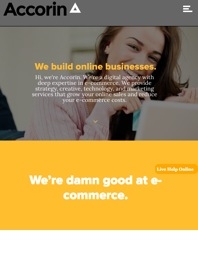 Accorin is a Boston-based, full service digital marketing agency with a focus on e-commerce - that is - we only work with companies that are looking for help in creating or growing online sales. We have been working in e-commerce since 2002. We are a small agency with deep enterprise technology experience and that makes our company a great fit for large companies beginning an e-commerce venture, smaller, experienced e-commerce companies, omnichannel companies with brick and mortar presence and e-commerce startups. Accorin has two owners, 1 digital agency / e-commerce veteran, the other an Accenture alum, technologist. Each has over 20 years of business experience.
Our core services include e-commerce planning, discovery, design, development, system integration, deployment, management and marketing. Within marketing our services focus on inbound, PPC, SEM and performance marketing for e-commerce websites.
Our portfolio includes a very wide range of companies. On the smaller end we recently helped a European industrial designer of child transportation products (strollers etc) launch a US online store in support of US retail distribution efforts. The site is http://www.mimakidsusa.com (Magento CE). On the medium side we helped a long standing client, Poliquin Fitness International, launch their first e-commerce store on Big Commerce from scratch in 2009. Then in 2012 we replatformed them to Magento Enterprise with two storefronts - one for Europe and one for the US (http://www.poliquingroup.com). Their nutrition supplements business grew to $16mm in online sales. We also just recently helped the largest independent mattress retail store chain launch their first e-commerce website: http://www.mattress1.com. Mattress 1 chose to start out on CE but we believe should need to upgrade soon. On the larger side of our direct client portfolio we recently worked with Steiner Leisure Limited. One of the largest distributors of supplies in the Spa, wellness, cruise ship line and hospitality industry, we just completed a second replatform from ASP.net storefront to Magento Enterprise for two of their businesses: the B2B Steinerbeautypro.com business and the new Bodyworkmall currently in BETA) http://pilot.bodyworkmall.com.