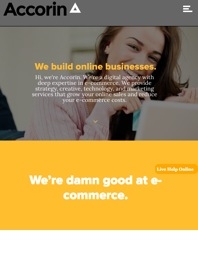 Accorin is a Boston-based, full service digital technology agency with a focus on e-commerce - that is - we only work with companies that are looking for help in creating or growing online sales and transactions. We are an agency with deep enterprise technology experience and that makes our company a great fit for large companies beginning an e-commerce venture, smaller, experienced e-commerce companies, omnichannel companies with brick and mortar presence and e-commerce startups. Since 2017 Accorin has been owned by a private equity firm Teall Capital out of Winston-Salem, NC.

Our core services include e-commerce planning, discovery, design, development, system integration, deployment, management and marketing. Within marketing our services focus on inbound, PPC, SEM and performance marketing for e-commerce websites.

We work with a number of the most popular e-commerce technology platforms and they are very close partners including Adobe-Magento, Salesforce (formerly Demandware) and Shopify.

Our portfolio includes a very wide range of companies including companies ranging in size from Fortune 50 companies to startups.
Status

Private Company

Founded

2013

# Employees

25