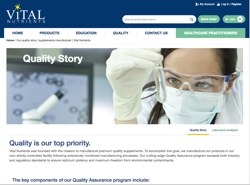 Boston, MA, November 01, 2016 --(
PR.com
)-- Boston-based e-commerce agency, Accorin has announced that it has launched a new Magento e-commerce website for Vital Nutrients of Middletown, CT. The new website is available at VitalNutrients.net.
The new website replaces a cloud-based, B2C-like e-commerce experience with a customized Magento website that provides content and features for B2C and B2B buyers alike. As a leading supplements manufacturer that prides itself on purity and quality of its ingredients Vital Nutrients is a favorite source of products by leading health practitioners, nutrition practitioners and renowned hospitals nationwide. VItal Nutrients is also a private label manufacturer for some of the country's leading supplement brands. In order to support e-commerce for its growing B2B customers Vital Nutrients turned to Magento so that for this release it could include favorite B2B features like quick order forms, custom pricing tiers, and easy mobile-based, account-specific ordering. The customized Magento implementation also integrates with SAGE to ensure that all order information remains in synch with its core business systems.
Accorin has been working with Vital Nutrients since 2010 when it began working on its first generation e-commerce website. Since then Vital Nutrients has grown into one of the country's most trusted nutrition supplements manufacturers. Vital Nutrients is dedicated to manufacturing premium quality supplements that promote health, wellness and vitality. Their stringent standards and extensive laboratory analyses ensure consistently pure and potent supplements that are trusted by hospitals, healthcare practitioners and consumers worldwide.
About Accorin
Accorin, LLC is a Boston-based digital marketing agency and system integrator that focuses on designing, building, and managing B2B and B2C e-commerce websites for a wide range of clients including Fortune 500 companies and startups. Accorin was founded in 2013 as the product of a merger of two well-known Boston-based digital agencies, MNET and Hunt & Gather both of which had long histories working in e-commerce. Accorin currently works directly with companies that sell online and Internet retailers and it also works with advertising agencies that do not have e-commerce technology experience in-house. Accorin has close technology partnerships with the following e-commerce platform companies: Magento, 451 Order Cloud, Shopify, Drupal, and BigCommerce.