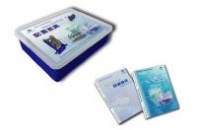 The Blocko (Nanjing) Robot Co., Ltd. is a professional education equipments and toys manufacturer in China, our controlling company named Blocko (China) Co., Ltd. is a leader of construction toys manufacturer in the world and the No.4 amount of sales in United States.

Our products include technology & design education Kit, electricity circuits education kit and easy robotic education kit. These products will show the students how to build a building, build a circuit, build a robotic and etc. They are fun and useful.

We put everything (wires, resistance, capacitance, diode, lamp, switch, motor, power, IC board, RCX and etc) into blocks, children can use the block to build anything they want, just like the Lego's style, but our techonlogy is better and price is better.
Status

Private Company

Founded

2003

# Employees

40