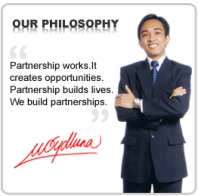 LLOYDLUNAPublishers is the publisher of the country's phenomenal career and personal development book "Is There a Job Waiting For You?" 9 weapons you need to make jobs look for you. which is now available in bookstores nationwide.
LLOYDLUNA Live! is a program that carries the signature seminars provided by LLOYDLUNA Communications. In 2005, Lloyd Luna has spoken to more than 50 schools inspiring and motivating more than 10,000 audiences composed of students, young professionals, junior executives, startup entrepreneurs and business people.
Webdeology.com is the information technology arm of LLOYDLUNA. It started as a web design company in 2005 which eventually developed to being one of the country's emerging name in information industry. Webdeology.com is the web architect, engineer, developer and marketer of GoNegosyo.org, the Philippines Center for Entrepreneurship website portal.
The LLOYD University™ is a virtual university for young people. We teach non-traditional courses and curriculum online including success, attitude, values and personal philosophies. The intensive one-year virtual course is offered FREE of any charges. Join the list now. Click here.
LLOYDLUNA Life Radio is an internet radio program dedicated to discuss issues on career and personal development. DZLL.net was founded by Lloyd A. Luna in 2006 following his acceptance of the invitation of The Manila Times to be one of the newspaper's columnists. Life Radio operates 24/7 through its recorded segments and episodes that are available any anytime, anywhere.
The bottom line and ultimate social corporate mission of LLOYDLUNA Corporation is the Total Quality Workforce® (TQW), which encourages all corporations and organizations to maximize the potential of their human resource by constantly guiding them on their career and personal development.