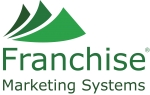 Franchise Marketing Systems is a full service franchise development and franchise consulting firm. The company was founded in 2009 by Chris Conner who had worked in the franchise development industry since 2002 and supported a variety of franchise brands in going through the franchise development process.
Although Franchise Marketing Systems is based in Atlanta, GA, the firm has franchise consultants located around the United States and Canada including Chicago, Detroit, Denver, Miami, New York and Toronto. These consultants come from a wide range of backgrounds and bring unique perspective and experience in the franchise market to clients.
Franchise Marketing Systems provides franchise development services needed for a brand to put together a franchise system and organize a model to be able to leverage franchising. Franchise Marketing Systems works with businesses to develop franchise strategy, franchise industry research, through work with third party franchise law firms develop the FDD, Franchise Agreements, develop franchise operations manuals, franchise training programs and franchise marketing programs. What differentiates Franchise Marketing Systems is the work following the franchise development process and in supporting clients in marketing and sales of the franchise offering.
Franchise Marketing Systems develops long term relationships with brands to develop marketing, sales models for franchise brands and execute the management of franchise models. Through a team of franchise professionals, Franchise Marketing Systems works alongside franchisors to develop brands from the ground up through franchising.