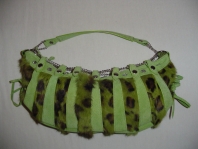 Girlie Designs is a way of life. Its style is funky, cool, exciting, edgy, and youthful. It embraces change and color. It promotes a feeling of the youth that you are or the youth that you want to be.
The concept of Girlie came from hanging out with friends and having a mutual understanding of the bond that women often share. We relate on a spiritual level, an emotional level and on a fun level.
Girlie Designs incorporates growing up believing a woman is a beautiful being and fashion is fun and exciting and should be embraced by all types of women.
Girlie Designs came together after 10 years in the fashion industry. It came into being by Canadian entrepreneur, Linda Antwi. She emigrated to the U.S in 2001 from Vancouver, British Columbia with a strong desire to pursue a fashion career. This is the beginning….
www.girlie-designs.com