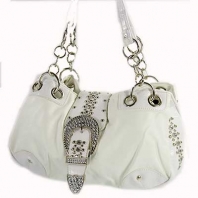 Established in 2000, as a fully stocked wholesale warehouse of designer inspired and western handbags, we have and maintain a strong supply of all our products posted on our website.
Customer satisfaction and support has now driven us to open an e-commerce division ( besthandbagwholesale.com ) so we can maintain and provide all variety of latest and trendy handbags, belts and accessories to our customers in a timely manner.
We maintain huge stocks in all our products posted on our website, and do not substitute on any orders. 99.99 % of all our products are sealed and never opened before shipping. We have and will maintain a strong and long relation with all our existing and future customers.
Customer satisfaction is our topmost priority. any questions or comments are welcomed.
Please contact us at (866) PURSES-1 for any inquiries