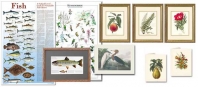 Since 1997, Charting Nature has been a major supplier of antique botanical art prints, bird prints, fish art prints, posters, books, and gift items to the internet community.

We offer several sets of coordinated botanical prints of flowers, ferns, orchids, fruit, mushroom and trees, both as cards and as prints, matted and framed. These superb reproductions of elegant 18th and 19th century botanical art make stunning wall decor as well as charming note cards. Available in 5"x7", 8"x10" or 11"x14.

Our Fish and Shellfish prints and posters are renowned for their biologically accurate and colorful illustrations. Select open and limited edition prints from Joseph Tomelleri, Brenda Gillespie and others. All of our fish and shellfish prints are available framed, matted and framed, matted, or just as a plain print. Available in 6"x9", 9"x12", or 12"x16".

We also offer a wide selection of bird art prints, art posters, note cards and Audubon bird art prints. All of our products are scientifically accurate and colorfully illustrated. They are beautiful and informative wall decor, and also great educational aids! We've recently added several sets of very colorful antique bird prints and will be adding more in the future. Restored from turn of the 19th century illustrations by renowned artist Louis Agassiz Fuertes and others, they make ideal gifts for the birder in your life.

Charting Nature also offers of thousands of books and and videos on nature topics such as hunting and fishing.
Status

Private Company

Industries
Company History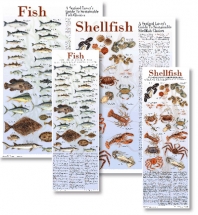 Charting Nature, a well established online retailer of nature art prints, originally started as a small reseller of fish posters. Now, over a decade since the company's inception, it has firmly established itself within the art prints industry, and has made landmark strides in many areas that contribute to its ongoing success.

In a market dominated by juggernauts like Art.com and AllPosters.com, Charting Nature's success is the result of establishing several unique niches. Framed art prints, such as botanical prints, fish prints, and bird prints, account for the majority of their business. But, unlike many of their competitors, all prints are available in several sizes and are custom framed, matted and printed to order. There are a variety of options that give the customer a tremendous amount of flexibility in fitting a piece of art into an already well decorated room. All of their botanical prints, which include fruit prints, flower prints, fern prints, rose prints, tree prints, and mushroom prints, are reproductions of antique botanical art prints from the 18th and 19th centuries. These unique and superb reproductions are more crisp and sharp than the original art prints from which they derive, while still maintaining the antique feel that makes them highly desirable.

Charting Nature's exclusive partnership with renowned artist Brenda Guild Gillespie has played a significant role in their recent expansion. After establishing this partnership, the company received an overwhelmingly positive response to Gillespie's biologically accurate fish and shellfish illustrations. Not only have these fish prints increased sales, but they also have paved the way to the new market of licensed image sales. After having several organizations inquire about licensed use of Gillespie's fish illustrations, the company recognized the tremendous opportunity in this market. It wasn't long after posting an image use request page on the website that new clients such as The Wall Street Journal, Seafood Choices Alliance, the Smithsonian, and the David Suzuki Foundation emerged. Monterey Bay Aquarium currently uses Gillespie's illustrations in their Seafood Watch Pocket Guides, and distribution totals are well into the millions.

Seeking to catalyze momentum, Charting Nature created a marriage of two partnerships in their new Sustainable Seafood Guide Posters. Using Gillespie's fish illustrations and Seafood Choices Alliance's guidelines for sustainable seafood choices, Charting Nature produced and published these posters to create yet another niche to set them apart while showing their support for sustainable fishing. The result was increased media attention and expansion to their customer base.

Now, with a diverse line of nature art products such as books and videos on fishing and hunting, antique botanical prints, fish prints, posters, and bird art prints, the company is very well rounded. After years of hard work, this "little guy" in the art prints industry has made quite a name for itself. The company envisions future growth by using the same formula that got them to where they are: finding niches that set them apart and capitalizing on them