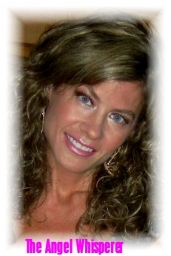 Dr. Kelli - The Angel Whisperer
Bringing your healing to the next level & Awakening you to your inner light!
Dr. Kelli, The Angel Whisperer
Author, Psychic Medium and Spiritual Teacher and Healer.
Dr. Kelli is the President and Founder of the CENTER FOR VIBRATIONAL HEALING, INC., which provides counseling, healing and spiritual advice; as well as training to clients throughout the world.
Dr. Kelli is a highly compassionate, intuitive and high vibrational individual. Born highly empathic, telepathic, as well as a natural healer she can relate to the many sensitive issues and challenges individuals go through; including psychic, indigo, crystal & rainbow children.
Dr. Kelli has spent all her life speaking with her angels and spirit friends. Starting when she was a small child she would have flashbacks of previous lifetimes, dreams that would come true, see auras around people, etc. Being born into a Christian family was a challenge for her to completely share and understand her God given gifts. But, she never gave up hope that she would be able to use these gifts and assist others on their own path to truth.
Trying to "fit-in", she spent many years in a human resources management capacity in Corporate America and then in 1995, she had a near death experience, that coupled with other significant changes, finally changed the direction of her life for good.
Dr. Kelli works with the angelic realms, the ascended masters, and all other beings of light. Her powerful, healing abilities channel celestial light energy directly into your physical being, giving you the opportunity to experience the celestial light for yourself. She uses her Divine connections to the angelic and spiritual realms to channel information for healing and guidance as needed.
Just some of what's offered:
Vibrational Healing, Soul Therapy & Clearing, Angel Sessions, Aura Clearing, Coaching for Empaths, Chakra Balancing, Intuitive Guidance Sessions, Reiki, Channelling, Guidance for Indigo Adult & Children, Quantum Angel Healing, Energy Medicine, Intuitive & Spiritual Counseling, Inverse Wave Therapy, Angel Intuitive Classes & Workshops, etc.
Dr. Kelli's Book "Angels Are Always All Around You, " and The Angel Whipserer's Angel Journal," has been released and is available on Amazon.com.
Life Changing Psychic Workshop
Powerful Psychic Workshop
Powerful Angelic Intuitive
Powerful Celestial Soul Healing