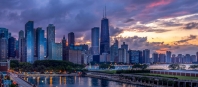 Excalibur Technology is a premier provider of network and Internet services, specializing in complete business support. Whether you need new computers, secure VPN access, custom programming or a new website, you can now trust a single partner to guide you through all of your network infrastructure and implementation decisions. From on-site service calls to instant help desk support, we are the only IT source your company will ever need. We invite you to explore our website for more information on the technological solutions that we can provide to your company. Allow us to demonstrate our personal commitment to helping your business succeed.
Status

Private Company

Founded

1994

# Employees

45
Company History
Excalibur Technology has been providing I.T. services to thousands of business and government users in northern Illinois since 1994. We are a complete support solution provider that specializes in computer technology, network support, website design, ISP services, programming, hardware sales and much more. All service is provided by our employees – nothing is subcontracted or outsourced. This allows us to maintain the highest levels of quality control. If you reference the enclosed brochure, you will see that we provide almost every I.T. service that will be required by your company. Should there ever be a need for a service outside of our skill set, we maintain a large referral base and can coordinate almost any request with our partners.

Fast facts:

- Our main office is in Lake Barrington, IL. This office services Northern IL and southern WI for onsite support services. We also provide programming and hosting services nationwide.

- We generate over $6 million dollars of sales & service per year. We are a financially sound company.

- We currently have over 40 full time employees.

- We run 24x7x365 with live support available at all times.

- We offer our business model as a national franchise.

- We do not use subcontractors or outsource any of our service.