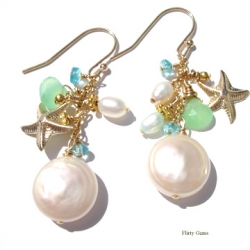 Stamford, CT, May 04, 2006 --(
PR.com
)-- You can almost feel the summer breeze when you view Flirty Gems new summer collection. Gone are the bulky necklaces and earrings of summers past and a new more feminine Flirty Gems has emerged.
The earrings, which are Alana's main focus, are adorned with all of favorite summer treasures such as starfish, sand dollars and anchors. "The colors I used this collection remind me of a typical summer day," says Alana Imbruce owner and head designer. This collection was inspired by daydreaming this long winter away.
The colors have a way of grabbing your attention and bringing you alive. The bright blue chalcedony, vibrant orange carnelian and deep blue turquoise play together joyfully like two kids on a beach. This collection is effortless in every way. You can wear it for fine dining or a backyard barbeque. Alana suggests mixing and matching the pieces but advises staying away from so-called sets. The whole idea of wearing necklaces and earrings that match exactly is very passé. "You won't see the It Girls of Hollywood today wearing sets and neither should you."
Flirty gems has been selling its glorious collections for four years in such well known East Coast stores as Rags in Rye, NY and Reflections in Greenwich, CT but now through her website the well known east coast secret is out.
Photos and additional information available to the press.
###