"Graphic Excerpt" is Unique Promo for Romance Book
Romance author Diana Laurence has collaborated with artist CC Rogers to create a graphic-novel style excerpt to promote Laurence's work.
Milwaukee, WI, September 02, 2008 --(
PR.com
)-- The excerpt is a tried-and-true method for promoting books, and especially popular in the romance fiction market. For a fresh spin on this technique, author Diana Laurence and artist CC Rogers collaborated by turning an excerpt into a comic.
The resulting two-page, graphic-novel-style excerpt is being offered free from the author's Web site, to promote Laurence's 2006 award-winning story "As Commonplace as Rain." The mini-comic is a PG-rated scene from the fantasy tale, which concerns a sequestered young priestess encountering a man for the first time.
Milwaukee-based Laurence is the author of the acclaimed Soulful Sex anthologies of sensual romance fiction, and the story appears in her second collection. Rogers is an amateur artist from Austin, Texas.
A longtime aficionado of graphic novels and animation, Laurence started the ball rolling with a post on her blog about "the sexiness of cartoon characters." Pointing to the appeal of animated spokespersons Erin Esurance and Toyota's Mr. Opportunity, Laurence discussed the double-whammy of text and imagery that can inspire readers to feel a deeper sense of romance.
Rogers, an avid fan of Laurence's work, contacted her about a possible collaboration. Wrote Rogers, "I think it would be really fun to try to make some pictures for your words. I have been considering for some time posting on a forum something like this: 'Describe a scene, I'll post a picture, and we'll see how much it matches your imagination!'" The opportunity to do a mini-comic was a bigger challenge than that, but Rogers, like Laurence, saw it as an opportunity to realize a dream.
With input and feedback from Laurence, Rogers completed the work in ten days.
Says Laurence of the finished "graphic excerpt": "It was uncanny what a similar vision CC had to my own concerning the scene. My words on the page indeed resonate even more powerfully with her beautiful, romantic illustrations. I'm confident the mini-comic will help new readers get the sense of my approach to romance, which is intense but tasteful. The souls of the characters really come through, the mood is on point, and in only two pages a lovely little story unfolds quite powerfully."
In recent years, more authors have been turning to a visual medium to promote their works, by offering "book trailers" online. Some question the value of this approach. The little videos may be entertaining and do offer plot summaries, but they don't showcase the author's actual writing like traditional excerpts. Says Laurence, "What I love about this idea CC and I had of a graphic excerpt is it makes use of imagery, but also quotes a nice passage right from the text of the story. So it serves as a true writing sample."
Marketing considerations aside, this fan of comic authors Neil Gaiman and Terry Moore was simply thrilled to see her name penned as "author" in a comic panel. And meanwhile, Rogers got to realize her dream of helping tell a favorite author's story.
It may be a mere two pages long, but this graphic excerpt provided a very happy ending for its collaborators.
Diana Laurence's books are available from Living Beyond Reality Press and online bookstores, including Amazon, Barnes & Noble, Borders, Fictionwise, and Powell's Books.
###
Contact
Living Beyond Reality Press
Diana Laurence
414-282-1460
www.dianalaurence.com

Contact
Multimedia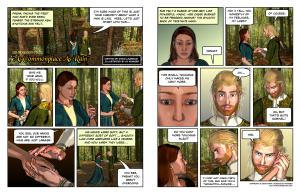 Romance author Diana Laurence collaborated with artist CC Rogers to create a graphic-novel-style excerpt of her story "As Commonplace as Rain," offered free to readers on her Web site.