Irvine BMW Announces Winner of IMAC Giveaway
Dealership Also Donates Second iMac to Make-A-Wish Foundation.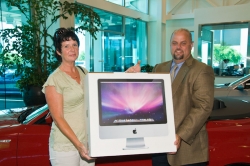 Irvine, CA, September 05, 2008 --(
PR.com
)-- Irvine BMW is pleased to announce that the winner of their iMac Giveaway Drawing is Gina Hilvert of Laguna Beach. Additionally, Irvine BMW will donate a second iMac to Hilvert's favorite charity, the Make-A-Wish Foundation.
"The iMac Giveaway started out as a customer appreciation drawing but it quickly turned into an opportunity to also do something good for the community," said Damon Shelly, founder of the Shelly Automotive Group which owns Irvine BMW. "We try to run our business based on our core corporate values which are integrity, respect, growth and responsibility. And being a good community partner is very important to us."
Hilvert was just one of more than 1,500 entries in the drawing. Hilvert and the Make A Wish Foundation will each receive an all-in-one iMac that packs all its components, from processor to video camera, into a slim, elegant anodized aluminum frame.
"We appreciate the relationships we have built with our customers and employees over the years," said Mike Rich, General Manager of Irvine BMW. "Having the drawing and donating to the Make-A-Wish Foundation is just one way of thanking the community that has contributed to our success."
For almost a decade, Irvine BMW's helpful and knowledgeable team of professionals has been making client satisfaction its highest priority. At Irvine BMW, you'll find one of the nation's largest selections of new and certified pre-owned BMWs and an unwavering commitment to excellence. The dealership is located at 9881 Research Drive in Irvine, Calif. For more information please call 800.817.2032 or visit irvinebmw.com.
###
Contact
Feltman & Associates
Heather DeBouck
949-622-5582

Contact