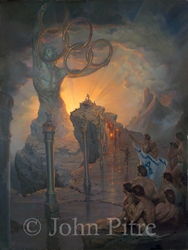 Berwyn, PA, September 06, 2008 --(
PR.com
)-- Lynn Norley announces that she has now obtained the exclusive rights to sell and lease "Israeli Martyrs," a Painting with a Purpose. Opportunity for purchasing and/ or leasing this famous piece of philanthropy on canvas has just become available. By John Pitre, this masterpiece is a gift to mankind. Israeli Martyrs was created as a lasting memorial to the 11 Israeli athletes killed by terrorists at the Munich Olympic Games. This important work of John Pitre's shows his humanitarian commitment and determination to draw focus on the crisis, prejudice, oppression and violence that continue to plague our world today. This rare masterpiece has raised untold millions for charity. It was used as the centerpiece in one evening's event in 1972, at the Fontainebleau Hotel Miami Beach with Joe Namath as guest speaker. Its proceeds were over 3 million dollars for the American Friends of Tel Aviv. Through its potential for inspiration and future fund raising, this painting with a purpose has provided financial assistance to assuage the suffering of people around the world. Israeli Martyrs, a historical icon, is the only Pitre work that depicts the date and place of a historical event. Looking into its depths it delivers a powerful message and reminder to mankind. One of the most powerful messages a work of art could bring to the world today.
"Israeli Martyrs"
Painting with a Purpose
1972 Oil on Canvas - 30" x 40"
Info: lnorley@gmail.com
###