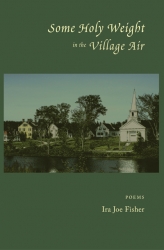 Garden City, NY, May 10, 2006 --(
PR.com
)-- Ira Joe Fisher's new collection of poetry, SOME HOLY WEIGHT IN THE VILLAGE AIR, published by Athanata Arts, Ltd. will be officially released on July 20, 2006. Fisher, a nationally recognized broadcaster with over forty years experience, known for his work as weather anchor for CBS on The Saturday Early Show, is an accomplished poet who gives voice and depth to small-town American experience in the tradition of Robert Frost. Fisher's book is the first volume of five to be published by Athanata Arts' NYQ Poetry Series, established to present book-length collections of poets recognized by publication in the The New York Quarterly poetry journal founded by William Packard in 1969.
Praised by Thomas Lux as a "splendid first collection," SOME HOLY WEIGHT IN THE VILLAGE AIR "chronicles small-town life, its scandals and secret tragedies and small undoings" (Paula McLain) in language which "often dazzles and is always compassionate, immediate, powerful, and tender" (Kevin Pilkington).
Fisher was born in Salamanca, N.Y. He holds an MFA from New England College and currently teaches poetry at the University of Connecticut at Stamford and Pace University. Fisher's poetry has appeared in various literary journals and his chapbook Remembering Rew (Bag-Tied-in-the-Middle-Press) is now in its second printing. He and his wife Shelly, and their four children live in Connecticut.
Athanata Arts, Ltd. was founded in 2001 by Peter Arcese, an NYU Professor and attorney, and Raymond Hammond, current editor of The New York Quarterly and National Park Service Ranger. An independent publishing and production company, Athanata Arts is dedicated to fostering interdisciplinary approaches to the arts. After four stage productions and two DVDs, SOME HOLY WEIGHT IN THE VILLAGE AIR marks Athanata's first book in print.
SOME HOLY WEIGHT IN THE VILLAGE AIR by Ira Joe Fisher
• ISBN 0-9727993-2-X
• Athanata Arts, Ltd.
• NYQ Poetry Series No. 1
• Publication Date: July 20, 2006
• Paperback, 92 pp, 5.5 x 8.5 in
• List $14.95 (USD)
• Available through Ingram, Barnes&Noble.com, Amazon.com and Athanata.com
###