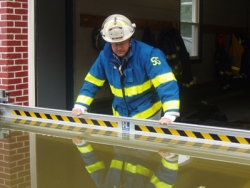 Wassaic, NY, September 16, 2008 --(
PR.com
)-- The 2008 Hurricane Season is working overtime, apparently making up for a lack of storms over the last two seasons. Also working overtime is Presray Corporation, the industry's leader in industrial and commercial flood protection, which recently launched HydroLogs; a heavy-duty, aluminum flood protection system that protects large openings from impending flood waters. An innovative interlocking modular design allows one person to quickly deploy Hydrologs without any tools. This new product, along with Presray's adjustable DoorDam flood barriers, may make plywood and sandbag barriers a thing of the past.
"HydroLogs adds to our already proven line of flood barriers offering a cost-effective, quickly deployed, reusable flood solution for larger, wider openings," said Jason Smith, President and CEO of Presray Corporation. "Just as floods come in all sizes, so do door openings, each requiring a different method of protection. Sales have been very successful for our DoorDam™ Adjustable Flood Barriers for many flood protection needs, but customers have also asked for a fast, economical solution specifically designed for wider openings such as garages, double-door entrances, sliding glass doors, store fronts, etc. Our answer is HydroLogs. We pride ourselves on the breadth of property flood protection solutions for both homes and small businesses."
Industry experts were introduced to DoorDam in May at the widely attended Florida Governor's Hurricane Conference. As new potential customers begin noticing DoorDam through national advertising and marketing efforts, thousands of current owners around the U.S. have their DoorDams ready, just in case a flood or storm was headed their way. In fact, hundreds of businesses were also prepared, including NFL's Cleveland Browns, several McDonald's franchisees, Berks Packing Co., Global Tech, Dow Chemical and Hawaiian Dredging Construction Company.
"Now when a storm approaches—as a number already have this season—HydroLogs and DoorDam owners can simply set their flood protection in place single-handedly and quickly evacuate their loved ones and leave the panicking to others!" added Smith. HydroLogs are delivered with minimal assembly required and in most cases do not require a specialty contractor to prepare the opening. Jamb brackets come complete with finished shrouds that won't degrade home décor or building aesthetics. HydroLogs are available in lengths ranging from 8' to 14' providing protection up to 36". Prices range from $2,184 to $3,410 depending on size. More information is available at www.doordam.com/hydrologs or by calling 866.DOORDAM (366.7326).
Video and photo available. Contact Sherri Pfefer - sherri@brainstorm2go.com - 954-651-3505
###