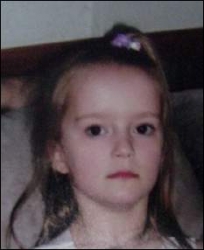 Springfield, IL, May 14, 2006 --(
PR.com
)-- The Monroe Police Department issued an Amber Alert Saturday evening for a five-year-old girl who authorities believe was kidnapped by her estranged father.
Devin Sierra Powell, of Rockwood, was last seen with her father, 28-year-old Jimmy Wayne Powell of Monroe, said Monroe Police Lt. Barclay Stewart.
The girl's mother, Jodie Breeding, of Rockwood, has full custody of the little girl and the told police Powell recently requested visitation. She said he had Devin since Wednesday and made arrangements with her to pick the child up at his home in the 700 block of East Second Street. Powell was not present when she went to pick up the girl.
When police went to the home, Powell's girlfriend told them that he left the residence at 3:45 p.m. and said he was taking Devin to McDonald s before he went to work at Automotive Holdings in Monroe. He borrowed her silver, 1998 Pontiac Bonneville and had never returned or reported to work. The license plate number on the car is ACD-3837.
Barclay said police believe Powell is somewhere in the Detroit area and may have a narcotics problem.
Her mother is anxiously awaiting the return of her child, Stewart said. We are doing everything we possibly can to make sure it happens.
Police ask anyone with information to contact the Monroe Police Department at 734-241-3300.
Please Visit www.projectsafekids.org for more details.
###