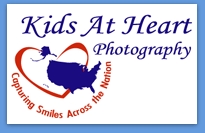 Hamilton, NJ, May 17, 2006 --(
PR.com
)-- Kids At Heart Photography, Inc. is the premier leader in school and daycare photography, with 15 years of "capturing children's smiles". Founded in 1991, Kids At Heart is the alternative to the typical "point & click" school and sports photographers.
Kids At Heart photography has successfully photographed over one million children! Due to the growth in the children's photography market, Kids At Heart made the decision to expand - by bringing a few qualified franchisees into the picture. Kids At Heart started offering franchises in March 2006.
Craig and Diane Hanlon of Wayne, PA were recently awarded the first Kids At Heart franchise and will service Montgomery, Delaware and parts of Chester County Pennsylvania. The couple had been searching for a business of their own when they found KAH Photography.
"After working 16 years, 12 hours a day, in the hectic corporate world, we knew that we wanted something better. We wanted a different lifestyle for us and our daughter. We decided that owing our own business would be the change we wanted. But after researching the franchise opportunities, we found that most of them would require the same long hours and stress of the corporate world. Then we found 'Kids At Heart'. With the Kids at Heart Photography Franchise, we can have the financial security and the lifestyle we wanted for us and our daughter. "
Craig and Diane Hanlon, met while working together in 1997. Craig graduated in 1990, from Widener University, with a degree in Finance. Craig has worked in sales and marketing since graduating from Widener. Diane graduated in 1995, from Kutztown University, with a degree in Marketing. Diane has also been in sales and marketing since graduation.
Craig and Diane both worked for companies that had very high customer service expectations. Their combined 27 years working for established successful companies has enabled them to understand the importance of customer service. They have always had the desire and drive to own their own business.
"With our Kids At Heart franchise, we choose our work schedule. We do not have to work nights and weekends, more importantly, we have our holidays and summers to enjoy together as a family. We finally have the lifestyle we always wanted."
"We are excited about granting our first franchise to Craig and Diane Hanlon. They are a very talented and successful couple", says Michael Stewart, COO of Kids At Heart Franchise Services. "We look forward to helping them build their KAH business and ultimately achieving their goals."
###