Loffa Interactive Introduces Prime Broker Application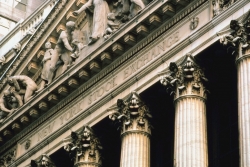 New York, NY, October 10, 2008 --(
PR.com
)-- The Loffa Interactive Group, a company specializing in the automation of financial firms' back and middle office processes, has announced the development of their newly released Prime Broker Integrated Network TM (PBINTM) solution.
The company's new product joins its existing FreeFunds Verified Direct TM (FVDTM) application, designed to automate management of the Letter of Free Funds process. Both platforms provide Broker/Dealers with an essential tool to strengthen internal controls, comply with industry regulatory rules, and significantly lower operational costs, and eliminating the use of paper.
Loffa's newest product automates the processing and manages the retention of the regulatory documents that establishes a prime brokerage relationship between the executing broker, investment manager, and Prime Broker. The application is currently in the process of being implemented by the #1 Rated Prime Broker, as named by the 2008 Global Custodian Prime Broker Survey.
Loffa Interactive's FVDTM solution is currently being utilized by one of the largest Broker/Dealers in the country, allowing the firm to automate their delivery, reception, storage and supervisory control of the Letter of Free Funds process. All of this is achieved at a fraction of the cost previously endured by the Broker/Dealer to comply with stated industry rules.
"In a time where brokers and other financial institutions are concerned with the growing cost of managing their regulatory and financial risk, we are very pleased to offer a suite of services to our clients that will significantly streamline their process while dramatically reducing their cost," said Manuel Alemany, Loffa Interactive's President and Founder. "In addition", continues Alemany, "we have recognized our industry's responsibility to 'Go Green' and work towards a paperless environment-we are committed to helping achieve that goal".
Loffa Interactive was founded as an Operational Systems consulting group by professionals from both the Financial Services and Information Technology industries. By recognizing the complex needs of broker/dealers to minimize their regulatory and financial risk associated with back and middle office manual processes, Loffa Interactive has provided their clients with flexible, customized solutions to strengthen operational controls, increase productivity, all while significantly reducing operational costs.
Loffa Interactive Group's patent-pending applications are the only web-based platforms to streamline both regulatory required Letters of Free Funds and Prime Brokerage documents.
For more information on Loffa Interactive's products and services, please contact Mark Roth at 480-664-6754 or email mroth@loffacorp.com. Visit Loffa's website at www.LoffaCorp.com
###
Contact
Loffa Interactive Group
Mark Roth
480-664-6754
www.LoffaCorp.com

Contact