All Furniture Repair, Antique Restoration and Disassembly Services Has Added More Locations and Services for Its Customers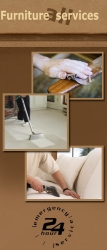 New York, NY, May 24, 2006 --(
PR.com
)-- All Furniture Repair, Restoration and Disassembly Services, a company that received three awards of being best in its class, believes that every doctor has to be a good doctor or no doctor at all. Qualifying service companies must be able to provide entire area of the services in their class and at all times when services are needed.
"All Furniture Repair, Restoration and Disassembly Services" now provides professional services and comprehensive warranty to manufacturers, insurance companies, moving companies, construction companies, vendors, stores, hotels, hospitals, restaurants as well as individual customers in New York, New Jersey, Connecticut and Los Angeles metropolitan areas.
There are many people and companies who come across situations not being able to move in or out large furniture, such as sofas, sectionals, sofa beds, armoires, wall units, dressers, office partitions, etc., and sometimes that happens on the late evening or weekend move. For that reason, the company is offering same day 24/7 emergency services for Disassembly, Assembly, Reassembly, Take Apart, Knock Down, Break Down, Dismantling, Assembling and Disassembling of sofa, couch, armoire as well as any other furniture.
The professional team of the company is capable of handling, as well as carrying everything necessary to provide immediate on-site, in-home, and in store furniture repairs on wood, leather, vinyl, fabric, upholstery, and mechanisms.
Methods and products are chosen to make their repairs permanent, invisible and to return furniture to its original or even better condition.
Additional information about the Company and services they provide can be obtained from
http://www.furnitureservices.com
as well as by calling to their National Customer Service at 1-888-575-6757.
###
Contact
All Furniture Repair, Antique Restoration & Disassembly Services
Mikayel Aslanyan
347-528-7777
http://www.furnitureservices.com
Toll Free #: 1-888-575-6757

Contact