The Crafty Baby Nap Pack Wins the Toyman "Seal of Approval" and "Award of Excellence"
Crafty Baby (R), a family owned company that handcrafts children's accessories in the USA, won the coveted Toyman "Award of Excellence" this week.
Stamford, CT, December 19, 2008 --(
PR.com
)-- Crafty Baby (R), LLC, a company dedicated to creating fun, durable, and functional products for children, has been recognized by the Toyman Product Guide's "Award of Excellence"Since 1971, the Toyman Product and Service Guide has provided an exclusive, credible, and unbiased method of giving recognition to products which "have what it takes™" to receive The Toy Man™ Seal of Approval. The seal serves as an emblem of professional recognition for having met the high standards of The Toy Man Product Guide for quality, safety, value and product integrity.
"We are thrilled to have the Crafty Baby Nap Pack added to the list of wonderful products honored with the Toyman's "Seal of Approval" and "Award of Excellence," Crafty Baby owner and designer Jill Chuckas shared. "It is wonderful to know that our efforts to create fun and functional products for children are being recognized at such a high level. This is indeed an honor and we thank you for the acknowledgment."
The Nap Pack was first created in 2002 when Jill's oldest child went to preschool. The school required a pillow, blanket and "lovey." Jill knew she could do better, and the all-in-one fleece Nap Pack was born. Her son, then three, was easily able to roll this blanket up at the end of rest time and stow it in his cubby at school. Kids ages 2 and up love to take this blanket to grandma's, friends, school, vacation and just about everywhere.
Available at www.craftybaby.com as well as various other retail gift and specialty stores throughout the country, the Nap Pack retails for $39.99 - $45.
For more information, please contact Jill directly at 888-788-5168, or visit their web-site at www.craftybaby.com
###
Contact
Crafty Baby (R)
Jill Chuckas
888-788-5168
www.craftybaby.com

Contact
Multimedia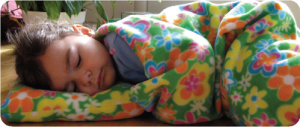 The Crafty Baby Nap Pack is perfect for a growing 2-7 yr old who needs a quick nap on the go. Durable, warm & cozy fleece is used for this blanket w/attached pillow. After rest, the child can easily roll up the Nap Pack for toting & storage.