Bankruptcy Paralegal Launches Outsourced Paralegal Services to Service Bankruptcy Attorneys on a Freelance Basis
Senior Freelance Bankruptcy Paralegal, Patrick Campbell, creates Outsourced Paralegal Services, LLC to provide support services for Chapter 7 and Chapter 13 Bankruptcy Attorneys, nationwide.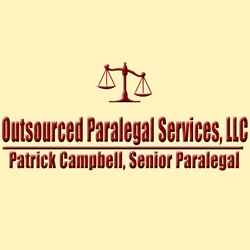 Plainview, NY, January 05, 2009 --(
PR.com
)-- Senior Freelance Bankruptcy Paralegal, Patrick Campbell, announces the official launch of Outsourced Paralegal Services, LLC. Outsourced Paralegal Services, LLC is an independent firm providing legal support services and consulting to Chapter 7 and Chapter 13 consumer Bankruptcy Attorneys.
Outsourced Paralegal Services
was created to help both established Bankruptcy Attorneys as well as attorneys who are new to the specialty of consumer bankruptcy to accommodate the hugely growing demand for bankruptcy filings throughout the United States.
"As the economy continues to be shaky and
bankruptcy filings
continue to peak into 2009, attorneys are looking to maximize their billable hours while still remaining effective for their clients. That is the need that Outsourced Paralegal Services can fill. We provide consulting to Bankruptcy Attorneys on how best to manage their bankruptcy practice, as well as invaluable administrative support without the extra expenses and necessary training period that go to in-house staff paralegals," states Patrick Campbell, President of Outsourced Paralegal Services.
Some of the services Outsourced Paralegal Services provides to its clients includes: drafting of Chapter 7 and Chapter 13
bankruptcy petitions
with EZ- Filing and Best Case software, drafting proof of claims, motions, and acting as a liaison between all concerned parties in a case (debtors, trustee, courts, and creditor attorneys). In addition to legal support services, Outsourced Paralegal Services also provides consulting services to assist bankruptcy attorneys in setting up more effective and profitable bankruptcy legal practices. The company also consults with attorneys interested in establishing consumer bankruptcy legal practices.
The expertise provided by Outsourced Paralegal Services is the result of years of work with one of New York States Bankruptcy Trustees, as well as working for both debtor and creditor attorneys. The company also possesses an extensive library of literature on the most up to date bankruptcy laws and court procedures in different states, and extensive research is part of what attorneys are provided as part of their services package with Outsourced Paralegal Services.
According to President Patrick Campbell, "OPS does the leg work so that busy attorneys don't have to. We are the backbone of a successful consumer bankruptcy practice, and at reasonable, cost effective rates."
About Outsourced Paralegal Services, LLC
Outsourced Paralegal Services was created with the sole practicing bankruptcy attorney and the understaffed boutique bankruptcy law firm in mind. OPS understands and appreciates the importance of conserving resources within a law firm, as well as the need for quality specialized paralegal services to support a firm's caseload.
OPS provides law firms with the opportunity to outsource their workload to a senior level
bankruptcy paralegal
at half the cost of hiring a full time paralegal on staff. For more information please visit
www.outsourcedparalegal.com
.
###
Contact
Outsourced Paralegal Services, LLC
Patrick D. Campbell
(631) 848-0283
www.outsourcedparalegal.com
Allison Kugel
Allison Dawn PR
allisondawnpr@aol.com
tel: 516-942-0264
www.AllisonDawnPR.com

Contact