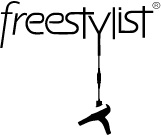 Shrewsbury, MA, January 07, 2009 --(
PR.com
)-- Freestyle Systems is the first green technologies provider in the beauty industry offering patented health-conscious solutions that enhance the overall salon experience for both salon professionals and consumers. They address the long-standing challenges facing the beauty industry, such as medical risk factors, overall safety, cleanliness and design, to help salon owners save money and reduce their carbon footprint.
Every salon uses hairdryers…the cords get tangled, they smash on the floor...and salons go through them like water. To combat that problem, Freestyle Systems created The Freestylist Free-Floating Dryer Support System (The Freestylist), the world's first and only weightless blow-drying system. The system suspends dryers from the ceiling, supporting their total weight, and they turn on and off automatically when pulled up and down. Aside from looking extremely cool, the system extends the life of blow dryers, reducing waste and additional dryer production...and the drama associated with tangled cords and dropping dryers.
Blair Hopper, President of Freestyle Systems invented The Freestylist to help a professional hairstylist who had developed Carpal Tunnel Syndrome in her wrists from blow drying. "After using The Freestylist, her symptoms went away and she was able to continue her career. I knew then that I had something special. In 2003, I formed Freestyle Systems with some friends so I could introduce this system to the market and help reduce pain and fatigue for other salon professionals," states Hopper.
Freestyle Systems also offers SpectraLights, the first LED (light emitting diode) lights engineered for the salon industry. Most salons have incandescent and halogen lights, with these types of lights, 80% of the electricity is emitted as infrared radiation (heat). That's why so much red is seen in hair and skin and why it gets so hot working under those lights. SpectraLights spectral power distribution is the closest to the sun of any light, so colorists can see true color – even indoors.
They're also the greenest lights available on the market - they save up to 85% in energy savings, reduce wasted heat from conventional lighting, and because they last for about 25 years, they also reduce landfill…all factors contributing to reducing salons' carbon footprints.
Details:
· Each 4" diameter light emits the same amount of light as a 100 watt flood light, using only 18 watts
· Don't emit any perceivable radiant heat
· Engineered to emit 3500-4000 Kelvin
· Exceptionally bright and don't turn yellow, even when dimmed
· Last 50,000 to 80,000 hours
· Low voltage and safe
So, who is actually reducing their carbon footprint? Top salons like Jean Claude Biguine, Pyure, Giovanni & Pileggi, Kelly Cardenas, Lavish Color Salon, Belu Design, numerous John Paul Mitchell The Schools, and many more. Be beautiful and go green.
For more information on installation, financing and quotes, visit www.freestylist.com or call
888-99-STYLE. MySpace: www.myspace.com/freestylesystems.
Press Contact: Glow Communications, squinn_glow@msn.com, 207-781-2598.
###